The Brief
For the last 45 years, SAS has been providing world-leading advanced data analytics to some of the globe's biggest brands, informing smarter decision-making and helping organisations to predict, adapt, and overcome global challenges through the immense power of data and AI.
For MISSION Agency, April Six, SAS represents a formidable partnership. Since our initial statement of work back in 2015, our relationship has deepened significantly and includes the development, management, and execution of several worldwide initiatives.
Fast-forward to 2021, and SAS approached us once more with its sights firmly set on the future of technology. It wished to answer questions such as: "What will it look like?" "How will it have changed?" "Where will we be in 2030?" and undertook several months of research across APAC, EMEA, North America, and LATAM to find the answers.
So, how did April Six help?
With reams of data to hand, SAS and April Six now had to present multiple layers of complex information, in an engaging way, to tell a unique story of hope for the future.
April Six had the mammoth task of distilling the data down to its key points and producing a web application where users could interact, manipulate, and personalise the data to their needs. In addition, we needed to demonstrate the incredible depth and breadth of the study (4,000+ participants), as it was due to be shared at a global level and used as an industry-leading report.
The immersive web application April Six built included a rich and detailed narrative that introduced visitors to the page. But more importantly, it offered a smooth and enjoyable experience, one which guided visitors through the site using interactive animations and journeyed them through disparate times, geographies, and industries to paint an informative picture of customer experience in 2030.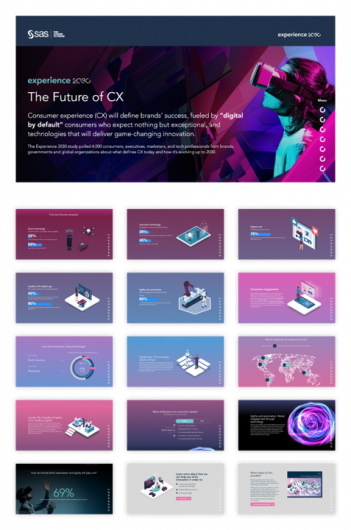 Our Insight
Our experience told us that the success of the Experience 2030 website would hinge upon its usability. We also understood that all work we produced would need to align with all three SAS Customer Intelligence value props (Customer Insights, Customer Decisioning and Personalised Marketing) and that our primary objective was to build awareness of SAS as a market leader, to enable the adoption of SAS Customer Intelligence (CI) solutions. Using this unique insight, we were able to produce a website that generated long-term awareness and positioned SAS as a strong and highly credible player within the CI market landscape.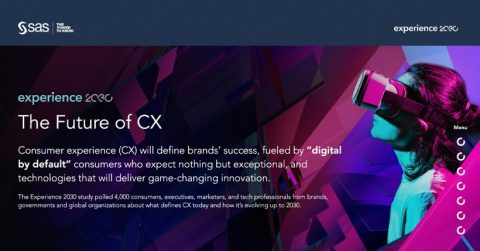 Our Approach
Before April Six produced the interactive experience you see today, the team behind the campaign began by collating all the key figures from the SAS survey. Due to the vast array of data, April Six had to design a framework for the webpage that would depict the studies story and highlight the importance of the key data points, what region the insight came from and what sector the data was in relation to.
Therefore, in collaboration with SAS, April Six devised a master framework (see below) that divided the page into sections.
– Five overarching key themes
– How are consumer using technology?
– What industries do consumers trust?
– What attributes drives customer loyalty?
– Agility and Automation
Within these overarching sections we planned to use a variety of graphs, tables, and maps to present the data for each of the geographic regions and technologies. This method allowed our developers to build a webpage which put the control in the viewers hands with ease – allowing them to interact and filter the website, personalise their experience and use the series of buttons, dropdowns, and charts to both compare the current landscape with the future of Customer Experience.
Explore Experience 2030 for yourself at https://experience2030data.sas.com/