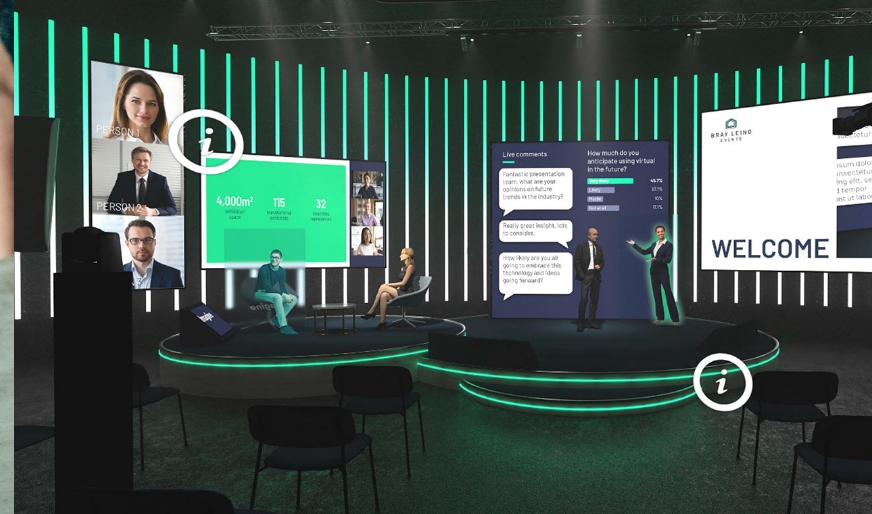 Award-winning live events MISSION Agency, Bray Leino Events, announces the launch of its new Virtual Experience Lab. VX Lab offers an innovative, immersive and interactive way for brands to engage with audiences, through a fully adaptable and bespoke virtual space.
The events industry has been quick to pivot away from in-person gatherings, but the saturation of virtual events has led to brands looking for new ways to engage with their audiences, as research has shown only 11% of event professionals feel they were able to exceed the success of their physical events.
The VX Lab has been developed as an additional tool for brands looking to bolster their events, website, staff training or product demos. It allows for discovery and exploration of a brand or product, providing a truly engaging user experience and elevating a live, virtual or hybrid event with an additional layer of interactivity.
Why VX Lab?
A new offering for brands: This experience can be customised to almost any configuration, meaning brands can build whatever environment they feel will deliver a real competitive advantage. Whether that is creating a wow-factor when showcasing new products, simulating a factory tour for those who are geographically out of reach, providing a glimpse into the future of an organisation or boosting the impact of their multimedia content.
A unique experience for users: VX Lab sends users on a personalised journey of discovery, learning about products and services that are relevant to their needs – in a way that suits them. VX Lab enables interaction with a virtual environment in a uniquely personal way.
Actionable insights for marketers: VX Lab provides full trackability of engagement, offering new insights into how attendees engage with a brand and its content. Rather than replacing live or virtual events, VX Lab creates a longer touchpoint with audiences and can supplement events with richer content. It allows brands to capitalise on the benefits of both physical and virtual experiences, in a new way.
"Virtual events are now a known quantity and the biggest challenge in the events industry right now is making virtual stand out – increasing interactivity and impact. The VX Lab is a powerful digital storytelling solution which encourages exploration and discovery whilst delivering meaningful and measurable analytics. We created VX Lab to enable our clients to elevate their brands to larger and more diverse audiences. We're excited to see brands unlock the benefits of this cutting-edge technology having received such positive feedback so far." commented Luke Brown, Managing Director of Bray Leino Events.
Anna Krenkova, Client Services Director at Bray Leino Events adds: "Our clients have been eagerly awaiting a return to physical events, but want to bridge the gap with virtual solutions that stand out from the rest. Our team is really enjoying discussing possibilities the VX Lab presents – there are endless bespoke options – from improving stand interactivity, a virtual factory and R&D facility tour or product demos that normally are impossible to demonstrate unless physically in person or expensive to build in situ. This is something that one of our clients, a leading energy brand, is currently exploring with us. It's fantastic for brands who are passionate about sustainability and reducing their carbon footprint by integrating VX Lab as a global platform."
Sustainability is now higher on the agenda than ever before, with 80% of the UK public concerned about climate change, and 30% minimising air travel in order to reduce carbon emissions. VX Lab offers brands that are focused on reducing their carbon footprint an opportunity to engage with a global audience while reducing the waste and energy consumption usually produced by a live event. Not only this, but it enables brands to become more inclusive with their offering, by creating rich and imaginative experiences that can be enjoyed by anyone – including those normally unable to attend events in person.
To learn more about how VX Lab could enhance your events offering, visit Bray Leino Events on www.lab.brayleinoevents.com