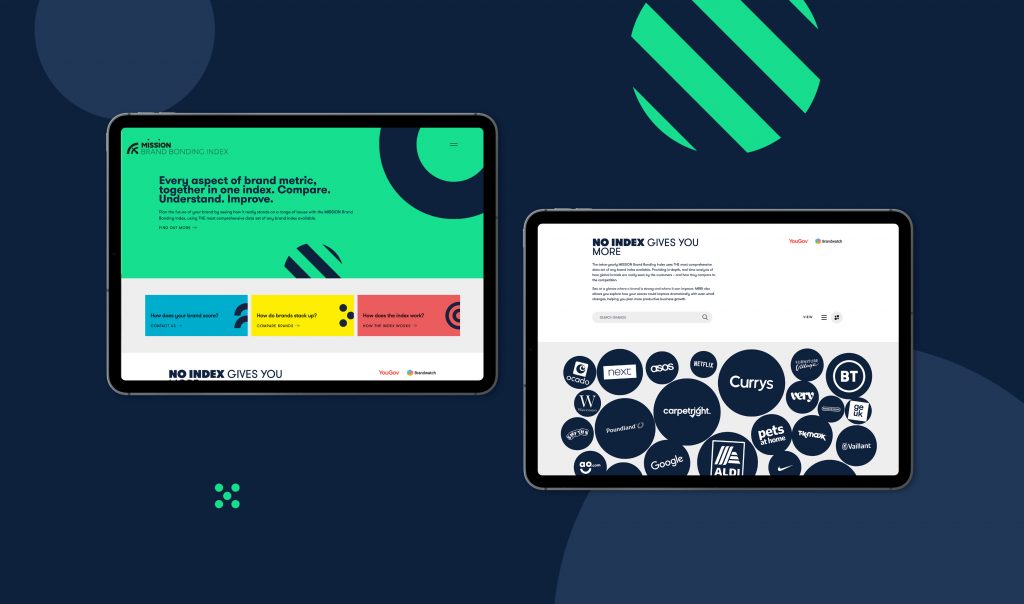 I am delighted to announce today the launch of the new MISSION Brand Bonding Index (MBBI), our proprietary tool we have designed to give companies immediate bespoke insight into their real brand power and actionable intelligence on comparison with competitors.
It's never been more important for brands to be able to track their strengths and weaknesses, to measure impact and accurately target areas of challenge and opportunity. That's why it's critical to know where you stand across a broad range of categories, from awareness and dependency to ESG, preference and purpose.
Our initial findings are interesting – it's clear that brand recognition isn't enough. Leading global brands are falling down on key indicators:
At MISSION, we help brands create and nurture bonds with consumers, through their CX, customer service, identity, communications and, of course, through their Purpose. These bonds – feelings of closeness, preference or identification with a brand – are the levers driving the results reported above.
It's these individual behaviours, large and small, that translate a brand's potency into measurable, real-world results.  So it's worth brand managers spending time really thinking about them deeply: how to craft them, encourage them, develop them and leverage them to make their brand even stronger.
Our bi-annual index currently covers 120 brands, from global corporates to UK brands such as Topps Tiles and Loaf, covering sectors including: DIY, Fashion, Grocery, Home, Online, Online Retail, Retail, Technology and Utilities.  It measures an impressive 330 key metrics and includes 39,600 data points, as well as 12 source categories, working with BrandWatch and YouGov.
You can find the MBBI here.
Want Work That Counts
If you'd like work that delivers the real, sustainable growth you're looking for, get in touch.